The Best New Artists To Watch of 2018
Big Fuss Records 2018 Artists To Watch
We are pleased to roll out and announce the best new Artists To Watch for 2018!
Come back each week to discover a new artist that we believe you need to hear! We will have the music up soon! Check back as this years selection of artists are compiled and will now be sent to partners worldwide.
Nina Lee is a real voice with a unique story never goes out of style.
At just 18 years old, the New York singer, songwriter, and multi-instrumentalist impacts the world stage.
With jaw-dropping vocals and an enchanting tone, powerhouse delivery, and the ability to tell an enthralling tale that instantly captivates, Nina Lee states "If I can change one person's life for the better that would be amazing. I just want to bring joy to people with music."
For as long as Nina Lee can remember, she's been entertaining her family with impromptu performances around the house. She went from crooning Frankie Valli and Billy Joel to immersing herself in the records of Ed Sheeran and Adele, all by the time she was in middle school.
Nina Lee composes lyrics that tell stories. She delivers a depth in writing which is apparent in her songs. Her debut EP, Snapshots is nearing launch. The poignant and powerful piano-driven "Safe Place" confronts experiences with bullying in high school.
Nina Lee does not conform to what's popular or trendy in order to fit in. This is why Big Fuss Records is please to promote Nina Lee and her song "Willing" in 2018 as an "Artist To Watch".
JSapp MadStak hails from San Diego California and is currently based in Pensacola, Florida.
His music is all about bridging gaps between the old school flow and modern punch.
Grabbing the best of both worlds, JSapp MadStak is irrepressible. The artist is a passionate and charismatic performer with a mammoth approach to hip-hop.
Due to his parent's occupation as naval officers, Sapp never had the opportunity to fully settle down in any one area or community. His education spanned over some 15 different schools while constantly trying to adapt to new environments. Younger Sapp spent a lot of his time between classes freestyle rapping, using garbage lids or the tops of lockers to create beats. It was at this time that Sapp began to realize that he had a talent for rapidly combining words through rhythm and rhyme.
JSapp MadStak has talent that stands out above a sea of rap hopefuls. His words and rhymes hit hard, not unlike influential performers such as, Nas, Tupac, Notorious B.I.G. or even Drake. He's in the studio with new music and a few latest releases include "Illest Testimony", "Tri State Hustle", "V.O.V. (Vincit Omnia Veritas)" and "Classic Vibes".
Big Fuss is proud to promote this talented artist and his music is currently available via all major digital outlets. We'll let the music tell the rest of his story..... #StakLife
Jasper X is a singer songwriter who has been composing and recording records for 15 years.
Jasper X began his music career playing small clubs in NYC.
Bouncing from one project to the next, it would take a while for Jasper to finally organize his musical thoughts and put a dedicated effort into studio recording.
After writing indie-rock pieces, such as the 2011 release, Cameras and Paragons, he chose to allow his current influences at the time, (Wilco, Elliot Smith, and Ryan Adams) take him in a different direction.
His latest release, Aegan Lanes, enters the alt-folk/singer-songwriter genre with personal, acoustic-based songs with unique chord progressions (Only Patterns, Fortunes) along with pulsating rhythms (Whirl Music and Alpha Rays).
Jasper X is an Artist To Watch in 2018 at Big Fuss Records as he continues to develop, producing sounds that appeal to a wide range of listeners.
James Robert Jones is a Canadian electronic dance music producer, singer, songwriter and guitar player.
Jones was noticed by friends and YouTubers for his unique and interesting high tenor voice.
James was lead singer for the Canadian folk-rock band "The Big East" in 2009. The band recorded a studio album (Hungry Ghosts) with Jones' music front and center. The record was nominated for a Canadian Folk Music Award (2017).
Next, James set out to pursue his passion in a solo effort working with producers Andre Wahl and Mark Zubek in two separate experimental Electronic music projects. Jones has been able to keep a foot in the world of Folk / Rock while developing new ideas and relationships in Electronic music.
Recently, "Bangin' A Gong" was selected by producers as part of a Nationwide Retail Rotation Opportunity. The song is set to air in retail locations throughout North America in the coming month. James was also selected for the track "Bangin' A Gong" as Canadian Songwriting Award Nomination in the Electronic Category in 2018.
Big Fuss Records is pleased to have "Bangin' A Gong" as a featured single with James as an "Artist to Watch" for 2018. We welcome this bright and creative Canadian artist.
Tiny Fighter are an indie-pop duo from Stockholm featuring Therese Karlsson and Tim Spelman.
Therese and Tim came together via an internet band forum and quickly realized Tim was good at starting songs and Therese excelled at finishing them.
In 2017 the pair met in person in Stockholm and quickly built a strong live reputation for mixing catchy indie-pop with darker themes and arrangements. Recently recording in Los Angeles and Stockholm with Daniel Rejmer (Ben Frost, Foals, Girls Names), the duo has extended on the more melodic moments from their previous work with bands such as Fire to the Stars and Mid-State Orange. Tiny Fighter is for fans of Ingrid Michaelson, Feist, the XX and Metric
In their short time together Tiny Fighter has been featured in the Huff Post, Essentially Pop, The Revue and KLATBLUT. Their single 'New Century' describes the tension many experience between unfulfilled desire and resigning to one's fate with a drive to take control of one's destiny and make a difference.
The title, 'New Century' is meant to suggest reinvention, a personal reinvention – which whilst desirable is not always an easy or straightforward thing to do.
QB Seven is an Atlanta based pop rock project with a focus on songwriting and top-notch studio productions. The effort is an eclectic mix of musicians with Randal Blake as founder.
Randall is the former guitarist/songwriter for the successful Atlanta based band, "The Accusations".
QB Seven performs an eclectic mix of music that ranges in style from singer-songwriter piano ballads to pop-rock and alt-country genres. Currently QB Seven is in studio recording new tracks. "There You Go" was selected at Big Fuss Records emphasizing QB Seven as Artists To Watch in 2018. More new tracks recorded include "Lost on a Country Road" and "Only Tennessee".
QB Seven is comprised of Randal Blake, guitars, Mick White, keyboards, guitar, and lead vocals; Jeff Hall on bass, guitar, and backup vocals and Rickey Josey, lead vocals, and percussion.
QB Seven currently works with Atlanta`s most sought after musicians including Paul Melancon, Becky Shaw, Mark Carbonerra and Rob Gal.
Rebecca Hosking can be heard on the Radio both online and terrestrial stations worldwide. She has charted in the top 10 for most requested Independent Artist on Fame Music Radio out of Johannesburg, SA and has five songs in the top 10 most requested song on Sound Machine Country Radio.
She's garnered countless Independent artist cuts, With Sister Soul, Anne E. DeChant and Rachel Farley.
Rebecca's dedication to the craft of songwriting and performing, demonstrates a commitment and determination that is necessary for musical success. Over the years she has collected numerous TV and movie cuts, and has recently had songs included in The Lost Girl, The Poker World Series on ESPN, Bizarre Foods of America and many more.
Rebecca is currently promoting her CD, "My Soul is Already Sold", while her latest release, "A Few Broken Pieces" will be on sale soon on her own LoveLloyd Music label. Rebecca is a hard working Indie Artist, and her music is pure country roots that comes from the heart. Hosking has reached listeners from across the globe. She has a following of fans which proudly call themselves, "The Hoskettes".
Currently, Rebecca Hosking is making her presence known pounding the pavement in Nashville, TN on Music Row.
Scott Dean is a London based indie-rock solo acoustic singer-songwriter with edgy vocals, haunting melodies and hypnotic guitar effects.
Scott recently released the album "Neon" which is produced by Gareth Kay.
Scott began playing piano at the age of eight and then added guitar lessons to the mix at ten years old, taking influence from Joe Satriani, Gary Moore and other solo rock guitarists. Good friend and mentor Ed Summers encouraged Scott to develop his voice. Scott spent the next five years having vocal lessons, and writing sessions that helped to nurture his sound as an artist.
Scott was then inspired by Nirvana, Goo Goo Dolls, Stereophonics, Feeder and U2. He started experimenting with new styles, techniques and the rhythmical side of playing. Scott Dean gained his stage experience working with three bands over thirteen years where he honed his skills as a performer and in 2008 Scott gigged heavily at open mic nights, performing tracks from his solo album "Declassified".
Scott Dean shines as an "Artist To Watch" in 2018 and deserves every bit of attention his music receives. He has worked hard and it shows.
Tony Andrews is an English Rock singer and songwriter, born in Finsbury Park, North London.
He's been the front-man in gigging rock bands in and around London Town for the past 8 years.
Tony played rhythm guitar and harmonica in his first blues rock band; "The Blue Raccoons". The band split before Tony was able to take the advice of EMI Music Publishing, to bring "The Blue Raccoons" stateside.
Recently Tony Andrews was selected as a Big Fuss Records "Artist To Watch" for his song, "Beautiful Day". The song is about a day in the life of Tony's dog, "Billy" who loves the beach so much, that all he wants to do is fetch sticks from the sea, all day long. In "Beautiful Day" Tony sings "I'm gonna take a swim, in the big blue sea, there's a big old stick on the sand just for me, I'm gonna run like thunder, ramblin through those waves, no need to wonder, these are happy days." Tony will be back in the studio on 20th May to record his raw energy rock song "Iron John"...a song inspired by The Brothers Grimm story 'Iron Hans'.
March 2018 Tony Andrews will go back into the recording studio to complete two primary songs: "KellyAnn" and the happy foot tapping rock track, "Crazy Little Dancer".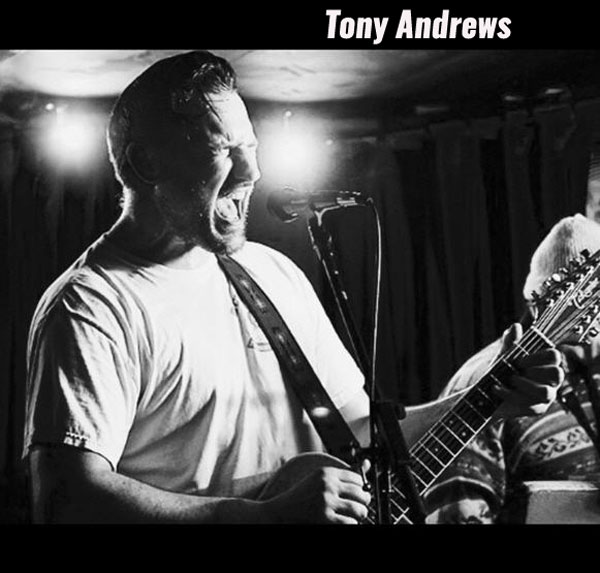 Ross Royce is a singer/songwriter/multi-instrumentalist from Wellington, New Zealand.
The artist is self taught in Drums, Guitar, Keyboards and Vocals.
He has established himself as one of the most exciting singer/songwriters in the music world with songs "Life Worth Living" and "Mrs.Vain" are featured in the Hollywood movie "Amateur Night" starring Jason Bigg's and Ashley Tisdale. He's headlined Whiskey A-Go Go in Los Angeles, and appeared at SXSW in Austin, Texas. The artist has had radio airplay on 32 U.S College radio stations as well as radio in Australia and New Zealand.
Ross also has had his song "Mrs.Vain" featured in the Canadian TV series "True Justice" starring Steven Seagal. "Life Worth Living" was featured in the Canadian TV series "Combat Hospital" and the US independent movie "For 20".
Ross Royce was selected as an Artist To Watch for his single "Life Worth Living". Big Fuss Records is pleased to have him on board for his unique qualifying sound.
Saving Athens is a Punk and Hard Rock band that is comprised of band members Tom Hogan, bass and vocals, Kenny Mitchell, guitar and Nick Nole, also on guitar and Clay Adams on Drums.
Saving Athens is from Brewster New York.
The group draws influences from bands such as All American Rejects, Foo Fighters and Green Day, to create a sound that is exclusive and tremendously contagious. Their latest track "Better Off Without You" is a song Big Fuss Records believes listeners will thoroughly enjoy understanding that there are those times in life when it is better to go alone than to be with a person who is not ideally suited toward another!
Saving Athens has a wide appeal and continues to make catchy music. Big Fuss Records is pleased to confirm these guys are 2018's "Artists To Watch!"