Big Fuss Records is pleased to announce that we have selected a handful of exciting new Artists To Watch for 2018!
We will be revealing one new Artist To Watch each week beginning March 2018. We look forward to showcasing this incredible talent!
Check back soon for the new and improved Artists To Watch!
Recent News

Artists To Watch 2018 is a compilation digital only release which will be marketed and distributed by Big Fuss Records. We are accepting song submissions for the multiple genre CD, in Folk, Americana, Rock, Pop, Hip/Hop, Christian, Punk, New Age, R & B, Soul, Rock, Jazz, and Alternative selections.
No foul language. PG rated style songs please.  We are searching for accomplished productions and exceptional sound.  Radio singles only.  Up to ten tracks featured on the compilation.
The purpose of the compilation is to promote and assist independent artists with much needed exposure through distribution channels and radio airplay under the Big Fuss Records brand and label.  We are completely artist friendly. This does not constitute a record deal although it may possibly lead to one if the label is convinced of an artist's commitment, material and marketability.
Click on the picture to submit your music today!
---
Songs of Service I & II is LIVE in stores now! The music is available at the Big Fuss Records
 Website. The honorable offering is an expression that really relates to the lives of our service men and women.  Share it with military friends in your life and especially those who are now veterans. The Compilation of contemporary song depicts the life experience and hope of those who serve and have served in the military, including their families. The music is the heart of brave people who fight for our freedom.
---

Big Fuss Records brings you the best new Artists To Watch in 2016! Click Here .
We are now accepting submissions for 2018.
---
Allison Cherise is Live at iTunes and everywhere fine music is sold and streamed. Click Here to learn more.

Read the Press Release regarding Allison Cherise and her upcoming set "Time For Your Dreams" Click Here
---
Christmas Around the Corner Volume I is the new
cheerful, holiday compilation from Big Fuss Records. The Album is available now at iTunes and most other online music retailers and streaming sites.
The inaugural volume features ten tracks that display inventive Christmas music with songs from the best independent artists each with their own unique energy and eclectic enthusiasm. Listen and purchase individual tracks now by clicking HERE
---
A New Season Of Great Music Is Here
We are glad to support the important works of indie music artists who work hard to reach for success.  We provide new helpful services in tandem with musicians who desire to grow.  We love what we do, and are committed to bringing great new sounds to the world stage, for music lovers everywhere.
---
 Miss Kristin – Ten Years hits stores and streaming sites. The compilation is a variety of essential Miss Kristin favorites, that reveal an irreplaceable sound, in a "best of" collection, so far.
Miss Kristin states; "There is nothing that has moved me more than the enthusiasm to lift people's spirits and guide them toward enlightenment."  Kristin goes on to say; "There has always been a purpose in my work.  A reason I had to produce, other than fame and money. Today, I am glad to be where I am.  I could walk away now, and feel quite accomplished, yet I have so much more to give."

Stream the music HERE
Billy Hyatt's latest single "Always Tell Them You Love Them" is live. Read the PR now here.
Big Fuss Records is proud to announce the
signing of a sensational vocalist and songwriter, Allison Cherise. We are currently working with Allison in the studio on her debut release.  Allison has been singing since she was small, and we know you will be extremely moved and impressed with her incomparable sound. We are very proud to have Allison Cherise join the Big Fuss Records team of talented artists.  Allison will also be featured as an Artist To Watch for 2015. Read the PR here.
 "Love Makes All The Rules" is now available in CD and digital album downloads. Pick up a copy for the low price of $9.99. Tell your friends the Big Fuss Music Store is the best place to buy new media, music lovers can enjoy for years to come.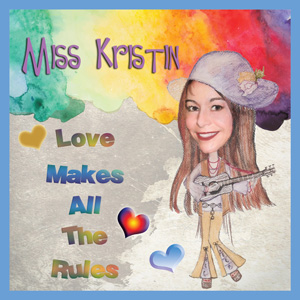 Miss Kristin is known for her resonant voice, powerful lyrics, and refreshingly unique style and sound reminiscent of timeless songwriters and artists like Sting, Carole King, Tom Petty, and Elton John among others.
According to Miss Kristin, love is not just an emotion; it's an energy that has the power to change lives for the better." Kristin uses her one of a kind voice to pierce the soul of her listeners with skill. Miss Kristin is a music artist who is presenting her large and relevant catalog of new music to the masses within a new music industry.
Billy Hyatt is on Fire!  "Always Tell Them You Love Them" 
is now live. Fans have been waiting and Big Fuss Records is pleased to  distribute the music.
Look for it at major online retailers.
The Love empowered original rap track by innovative producer Mr. Billy Hyatt is live at iTunes and everywhere quality digital music downloads are sold.  Billy Hyatt's music is best described as funkadelic rock and rap that is primarily positive, while being particularly realistic.  No shenanigans or fake perceptions. Billy Hyatt is known to NOT follow the crowd.  He has determined to pave his own musical path.  The new music release is one Billy Hyatt fans will easily relate to. Fans are already asking for the single at Big Fuss Records and the Company is excited to be delivering the track to the public so they may enjoy and listen to "Always Tell Them You Love Them", over and over again.
---
Miss Kristin's  "The Dreamer"  is available at online outlets such as  iTunes, CDbaby and Amazon.com.
Read about The Dreamer:
Miss Kristin Embraces Adventurous Take On Love; Lights Fire On "The Dreamer"
Listen now with free streaming at MissKristin.Com
Pick up your flask, take a break and enjoy!
"The Dreamer" incorporates theatrics and puts hand in glove to represent a lifefull of imagination and experience. The journey begins and ends with the idea that life is only what one dreams it to be. That people have the power within their hearts and minds to design and create their own outcomes.
More Big Fuss Artist News
Bookmark this page and check back often.
Big Fuss Records Radio Division is
HOT-TRAX.COM 
Big Fuss Records is honored to be bringing NEW and exciting musical artists to the forefront of the music industry via the Hot-Trax.Com Radio Hour.  
Need radio distribution?
Visit Hot-Trax.Com and submit your music now.
Big Fuss Records
51 E. Campbell Ave. #1556
Campbell, CA 95008
(480) 500-7113